Discussion Starter
·
#1
·
Last night I did a lot of maintenance on my quad in preparation for my Sunday ride with Jeff and Co. Since I sold my muffler to Chris my quad was semi-apart with the right heel cover off and the heel guard missing somewhere in the abyss of my garage.
Here's everything I did:
1. Put the front plastics back on. Of course after I did this and remembered I needed to grease the steering stem to get rid of the awful squeeeeeeeeek every time I turned my bars. But of course I had to root around my garage to find the grease that I had that was hidden in plain sight behind my buffer. I cannot begin to tell you what a pain in the ass this was since I had (thankfully) kept all my bolts in one place, but at this time they all started looking the same and I had a hard time figureing out which one went where and why.
2. Took my wheels off and stripped them of their black paint that by now looked like some sort of wheel leprosy. The paint cam off with ease but required two passes - no big deal. After I finished the outside though I saw that the inside was still black but with streaks of silver where the stripper had dripped on it. Grrrrrr...more stripping.
Here's some camera phone picks of before during, and after it was stripped:
After: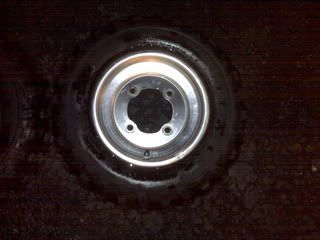 3. Put my wheels back on my quad, and put it back on the floor. Crap. I wanted to put the mud scrapers back on. So as a result I laid on my side on my garage floor while putting the wheel scrapers on with a box-end wrench since there was no room for a ratchet between the rim and the a-arm. Ugh.
4. Changed the oil. I'm actually getting quite good at this, although it's always a mess.
5. Cleaned my air filter. I'm crazy about cleaning my air filter. This was quick and painless. I also cleaned my air box and put a little oil on the inside of that. (I believe the dirt has one more thing to sick to besides my air filter that way.
6. Re glued my left grip.
7. As I mentioned before I sold my muffler to Chris so now I'm rolling almost stock. (cries) So since I'm a one-man 700xx junk yard, I actually have two stock mufflers and I took the stock spark arrestor out of muffler #2 and dremmeled the restrictive spark arrestor stuff off. This way if I don't get my muffler before Sunday it doesn't sound like I'm riding the quad designated for the girlfriend/wife of Jeff since he has a nice shiny new Yoshimura slip on. [bling bling]
So here is my attitude by the hour of me wrenching
1st Hour - my kids are riding their bikes and needing me to fetch their other big wheel or stop their brother from running into the back of them.
2nd Hour - Damn I lost the eBay auction. I'm really starting to sweat and get hot.
3rd hour - starting to get frustrated looking for my heel plastic peice. It's fully dark now and I have two compact florescents in my garage which makes every shadow look like my missing piece. I'm starting to curse at things now.
4th hour - I'm misplacing wrenches that are in my pockets or bolts that I need in those same pockets. Of course I'm on my knees and looking for this stuff when I realize that it's inside my pocket. Random stuff starts getting kicked around my garage. Kids bike helmets, big wheels that are in the way - they all take the brunt of my tired angry body. :disgust::disgust:
5th hour - I'm a raging silverback gorilla by now. I'm thinking if I can just finish this without breaking anything I'll be happy. :steamed::steamed:
6th hour - Cleanup time. By this time my rage has subsided and now back pain starts kicking in. I walk around like a sweaty sticky geriatric zomby picking up tools and putting them away. If I wasn't going riding this weekend I would have left them where they lay,
but I might need those tools this weekend
, so I put them away neetly. By now any song on the radio pisses me off because I've heard it 4x now. Britney Spears gives me chills when I hear her "La, La, La, La, La" in her song.
Jeff I'm ready to go riding this effing Sunday....dammit.