Discussion Starter
·
#1
·
It's been a little over a year that I've had the 700xx and I've been through some pretty icky stuff over that year so I thought it would be a good thing if I checked my pads.
Good thing I did!
I haven't heard any squeaking, grinding or anything else "not right" coming from up front. But more on that later...
Here's what you'll need:
17mm socket - for the lug nuts
12mm socket - for the two bolts on the back of the caliper
10mm socket - for the plastic dust cover bolt
08mm Socket - for the pad retaining bolt
Large vice grips or a "C" clamp to compress the pistons
WD40 or lubricant to clear the debris from the pistons prior to compressing them back in.
Jack Stand to hold up your quad
1. loosen your lug nuts on your wheels.
2. Jack up your quad
3. Remove the lug nuts and the front wheels
4. Remove the dust cover's 10mm bolt
5. Loosen the 8mm pad-retainer bolt.
6. Loosen the 12mm bolts and remove the caliper minding that you don't twist the brake line too much. (these quads are new now, but in years to come these lines could tear)
7. Remove the 8mm pad retainer bolt.
8. Remove the outside pad only, not the pad that is touching the pistons.
9. Take your lubricant and clear away any dirt away from the outside of the piston.
10. Compress the pistons in by using the "C" clamp or vice grips, do this slowly. Make sure you're pushing (squeezing) against the old pad and not the piston itself; you'll want to make sure that it goes back in as straight as possible.
11. Once the pistons are fully inside the caliper you may remove the old pad.
12. Put the new pads in place, making sure the rear of the pad is snug and that you can pad retaining bolt can be inserted and finger tightened.
13. Slip the caliper back into place and put the 12mm bolts back in minding that the brake line is not kinked.
14. Tighten the 12mm bolts according to your manual's specifications.
15. Tighten the 8mm bolt, again according to your manual specifications.
16. Put the dust/mud cover back in place and...you guessed it...tighten to your manuals specifications.
17. Squeeze your brake lever and you should see the caliper adjust and slide into it's correct place. It should
not
feel spongy.
18. Put your wheels back on and torque to your manual's specifications.
Here's what my pad's looked like: Yikes!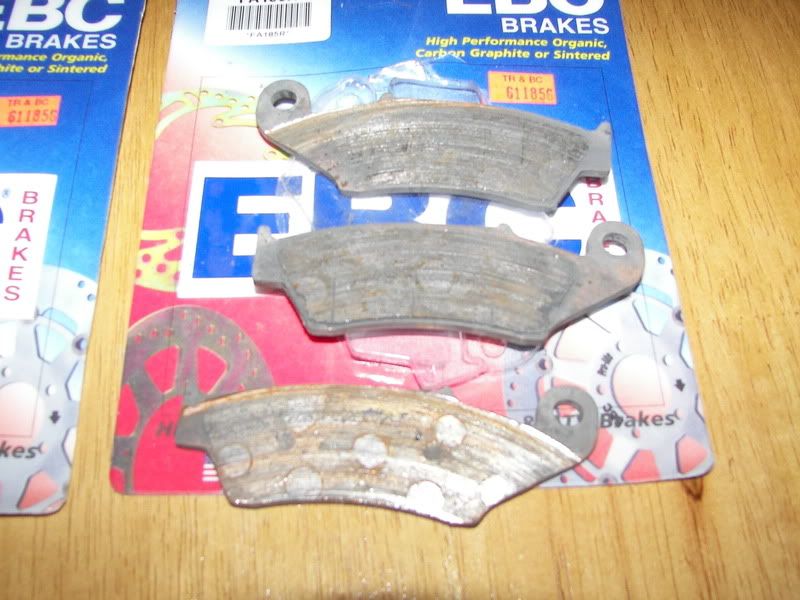 Here's the part number of the pads I used:
Here's the sockets: