I'll save everone some time:
I would like to share with you guys the great opportunity I was given to race the Tecate Score San Felipe 250 on the #1A American Honda Pro Quad Team.


First I will start off with a little info on how I got started with racing and Baja-

I have been visiting Baja for most of my life with my family on fun week long trips and more recently in the last few years had spent most of my time in Baja at the Score races. I ended up getting hooked to Baja racing and would go to every race I could to help out my friends and learn as much as I could. I spent many races down there prerunning, prepping and chasing with the McMillin & Scaroni families and learned a lot thanks to them.

In January of 2008 I bought a quad (crazy idea I know!) after riding bikes for the last 8+ years and decided to try racing after talking to Wayne & Kristen Matlock at a family trip to the dunes. After my first race at a local District-38 race I was hooked to racing quads. I ended up racing at about half of the D38 races and continued to improve and learn more about racing quads. It seemed I was more comfortable on the quad than I ever was on the bikes and my speeds picked up and soon I won a couple of races.


And here is what lead me to racing in Baja-

Wayne Matlock called me before the Tecate Score Baja 500 last year and asked if I would like to go down and chase for him. I of course said yes because I can't pass up Baja and it would give me a chance to learn more about racing down there. I ended up chasing Wayne at both the 500 and the 1000 last year and learned a lot about the amount of work and time it takes to be the best in Baja. At both races I got the chance to ride the new Honda TRX700XX and prerun the first 50 miles with Wayne. I was amazed on how well the quad worked and how much I liked it.

After returning from the Baja 1000, Wayne told me I needed to try riding the Honda TRX700XX at an upcoming BITD race in Henderson, NV so I could see how I liked it. Well I ended up REALLY liking the quad and won my class. Soon after Wayne told me he had talked to Bruce Ogilvie at American Honda about me and said he would like me to ride with him next year in Baja. I got really excited about this news, but was also a little worried because now the pressure was on!

Wayne and I continued to ride as much as possible and started hitting the gym twice a week for training. We also continued to race the local D38 races because they are great training for the whoops in San Felipe. Just three weeks before I was scheduled to start prerunning for the race I crashed while out on a fun ride. I ended up cartwheeling my quad end over end and when I got up my right thumb hurt bad and was starting to swell up. We weren't finished with our ride so I sucked it up and finished the 60+ miles we still had to go. By the time we got back to the trucks my hand felt better but my thumb was swollen and black & blue. I figured it was just sprained by decided to visit my doctor just in case because San Felipe was coming quick. After the doctor visit and some X-rays I learned I had a broken thumb. Not exactly the kind of news you want to hear just before a race like San Felipe. I told my doctor what my plans were and he fixed me up with a cast so I wouldn't hurt my thumb anymore before the race and the plan was to visit him just before heading to Mexico so they could take more X-rays and give me a brace I could prerun with.

Now the fun (or work!) began! Due to another racing going on the weekend before the SF250 Wayne and Harold Goodman would not be heading down until the Monday before the race. I had to work the Monday and Tuesday before the race so my plan was to head down the weekend before to get a jump on prerunning my section and see how my broken thumb was going to work out. The day before we headed down I stopped by my doctor and they did some X-rays and removed the cast. My thumb had healed but he still gave me a brace to wear while riding the first weekend if it was bugging me. I picked up my cousin Terrence and a friend on Friday afternoon and we headed to SF. We got to SF just in time for some dinner and then found the house I had rented north of town.

Saturday morning we headed out to race mile 93 at Morelia Junction where I would be getting on the race quad. We were unsure how far I would be able to run while prerunning so we strapped ½ gallon of gas to my back just in case. We checked the radio before I took off and everything was working fine. I also wore the brace my doctor gave me for my thumb and put it on over my riding gloves. After taking off down Morelia Rd we soon realized I could hear my chase truck but they couldn't hear me, so I would just click the PTT button to let them know I would understand them. Soon I was out of range of the radios and was headed south towards Matomi wash. I was not running TireBalls in the rear tires and after dropping into Matomi wash I got a rear flat. After stopping to fix the flat, I continued on and finished up my section at race mile 170. My chase crew was right on time and we loaded the quad up to go do it all over again.

This time we agreed that I would click twice on the PTT button if everything was ok because the radio was still not working. The thumb brace I wore on the first ride was bugging me and my hand felt good so I stuffed it in my pack and decided to try riding without it to see how it felt. I was off again and before long I had another rear flat. I fixed it and continued on my prerun checking the multiple lines running through the washes. Before I was midway through my second prerun I had three more rear flats and was out of plugs and CO2's, so I had to ride the last 25+ miles on a rear flat. The flat caused me to eat up more gas than the first ride and I just made it back to the meeting point at race mile 170 before running out of gas. The good news was my thumb felt great after the ride and I never had to put the brace on. We headed back to the house to shower so we could grab some dinner and go check out the town (Terrence had never been to SF before). I was out of CO2's and felt really good about my two preruns so we decided to just head home Sunday morning rather than try to prerun again and take a chance of getting another flat.

After getting back home that night and unloading my quad I stopped by a friend's house to pick up Harold Goodman and his wife Jessica so I could take them over to Wayne's house. We talked about the race plans a little bit and then I headed back home so I could strip my quad back down and get it ready for the next trip. The shocks had felt a little worn down during my prerun so I took them off so I could have Precision Concepts service them. I also rounded up my radio and helmet so I could get those checked. I spent the next couple of days stressing at work and running around on my lunch break to get all the last minute stuff done before heading back down. Mark over at Precision Concepts did an awesome job getting my shocks serviced in time and Mike over at Racer-X spent some time with me trying to figure out what was going on with my radio. We found the jack inside the radio was worn so Mike let me use one of his radios for the race.

Tuesday after leaving work I ran home and finished putting the quad together just before Terrence showed up. We finally got out of town after making a few stops to pick up parts for the race quad that had not gotten there in time for Wayne to take down with him. We arrived that night and found the house that the team had rented north of town. It was a nice house with a large garage for working on the quads. We unpacked our stuff and I made sure my radio and gear was ready for the mornings prerun.
The winners:
More pics from the race: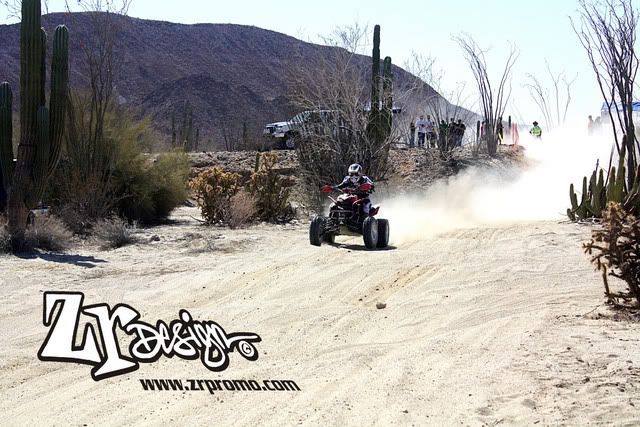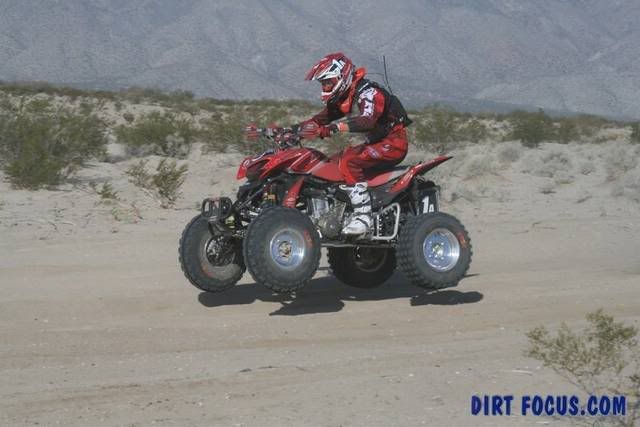 Club | 700 | xx