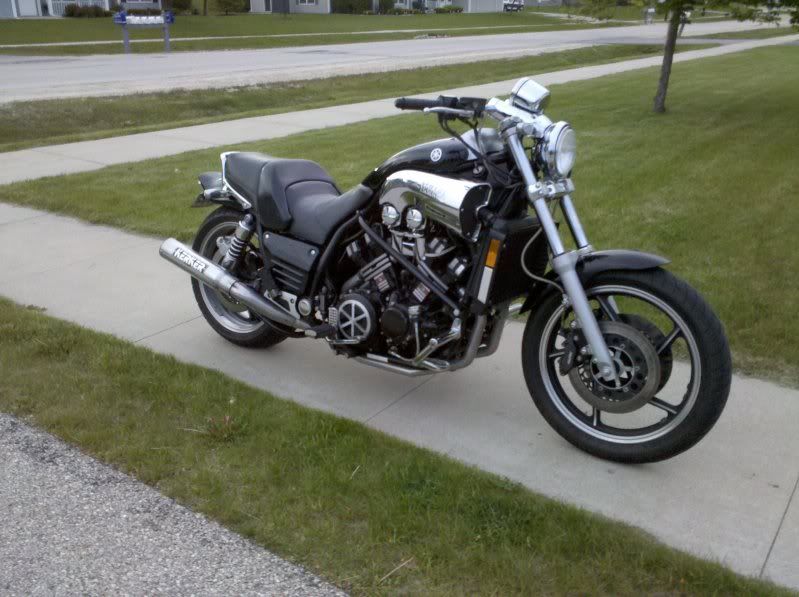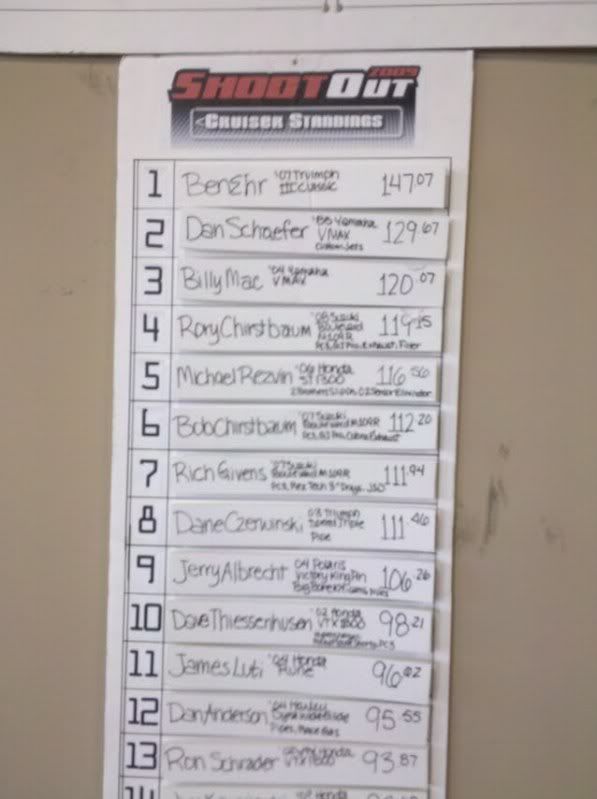 1985 Yamaha Vmax (First Year!!)
17" 180 Radial tire conversion in rear with Avon tire
Avon Radial Tire in front
98 CBR Tokico Calipers
SS Brake lines
UFO Fork Brace
Holeshot Frame braces
Swingarm brace
Race tech fork internals (Lowered 2")
11" Progressive rear suspension
UFO Starfighter custom seat
Aftermarket turn indicators
One off LED tail light
Shorty rear fender
Aftermarket Handlebar mirror
Muzzy Fan
Engine Ice
180 degree thermostat
Fan overide switch
T-boost kit (allows each cylinder to draw off two carbs starting at either 3000/6000rpm selectable on the fly)
K-N filter
Airbox mod
"The O-ring mod" (A VMAX thing..done as a precaution)
Kerker 4-1 with 3" baffle (F*&#ing loud)
Chromemasters chromed scoops, Triple tree cover and rear grab rail
Exactrep Carb covers from England
Splitfire plugs
Hotwires
Oil pressure gauge
SS bolt kit
A whole lot of time tuning/ dyno tuning…(done now)
umm and a few more things...right now it puts out 129.67 HP at the rear wheel...not bad for a shaft drive bike....and it puts me right at #20-21 in the world for internally stock Vmax. http://ufocycles.com/120+club/120+club.htm (not posted yet as There website is changing…Have all paperwork and confirmation that it will be shortly…) everyone above me has Flat-slide Carbs....I refuse to spend the extra 2-3 grand
This bike is my pride and joy…it is a dependable and very streetable. It has never leaked any oil or other fluid for that matter. Last year the valves were checked and the entire bike was gone through by Team Winnebagoland in Oshkosh, WI ($500+). This year it received the usual oil filter/oil change as it gets every 1500 miles. Tires will last several more years (if you take care of them) Paint is perfect on tins, motor paint good overall condition. Everything that has ever needed tending to has been addressed immediately and done the right way with the right parts. This is my baby and you can ask anybody that has seen it at a bike show how much pride I take in my bike. Title is clean and in hand.
I WILL NOT sell this to someone who has not had significant experience on a motorcycle…this is one of the most powerful bikes on the road and demands a great level of respect! There will be NO test rides until cash is in hand…I WILL NOT have this bike messed up by a joyride gone wrong. [/font]
I have misc parts that will go with this bike, bike does have small scratch on Kerker pipe from previous owner…I haven't minded it...
Price is $6000 obo…(very close)
….you would have to absolutely awe me with a trade… Cash only, In person…don't waste my time…I'm honest and expect the same out of you.
Dan