Join Date: May 2009
Location: NOR-CAL BABY!
Posts: 1,790
Mentioned: 0 Post(s)
Tagged: 0 Thread(s)
Quoted: 0 Post(s)
The Wiigstyle,elka, Houser, Prm, And More Review
---
ok i know ive been doing a few mods lately and havent really had time for a review so here they are all in one.
First off the shocks and arms: elka stage 3 front and rear houser +.75 arms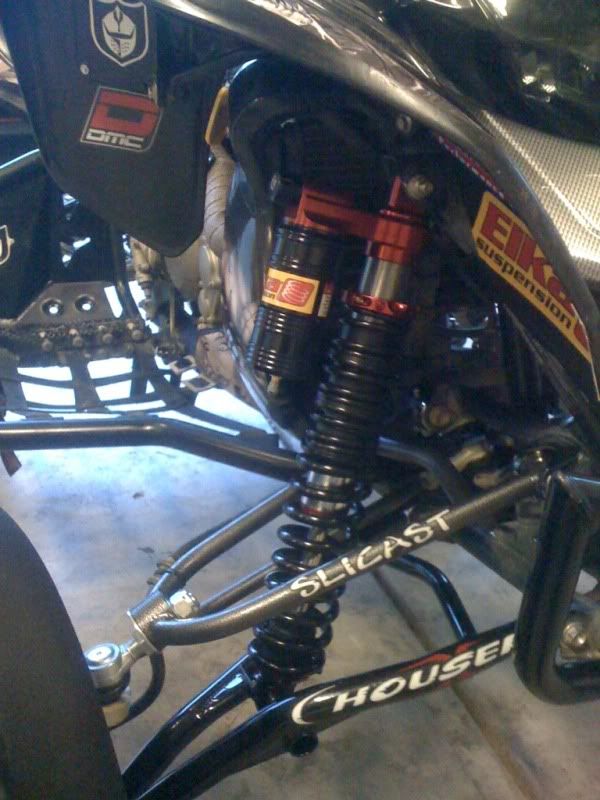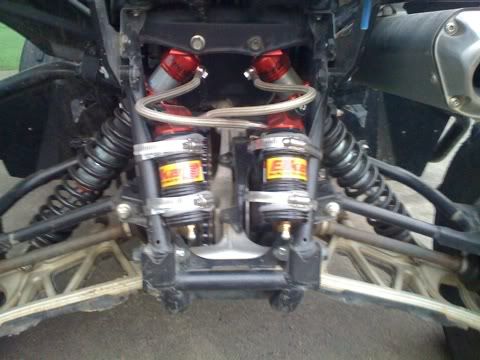 now this is all about the finished product there were a few issuses along the way.
while running a 3mi streach of whoops with only the front arms and shocks (stock rears) i was able to do a steady 40mph in a straight line the front soaked up every bump and felt stable with smother turns than before. it no longer wanted to sway from side to side. however when the back got out of rythem the quad bucked fiercely and almost through me off a few times. once i installed the rears i was able to do about 60mph steady even through whooped turns. the quad nolonger bottomed out on bigger jumps and just floated over everything. the adjustability on the schocks is nothing short of amazing once you learn how to work them you will be able to make it the best ride for you, factory setting were not quight dialed in
now the houser arms do not require longer breaklines said jen at houser because they are only the +.75. the even more extra ground clearence has been great in the rocks and the +.75 realy does make a difference in handleing.
now the prm grab bar: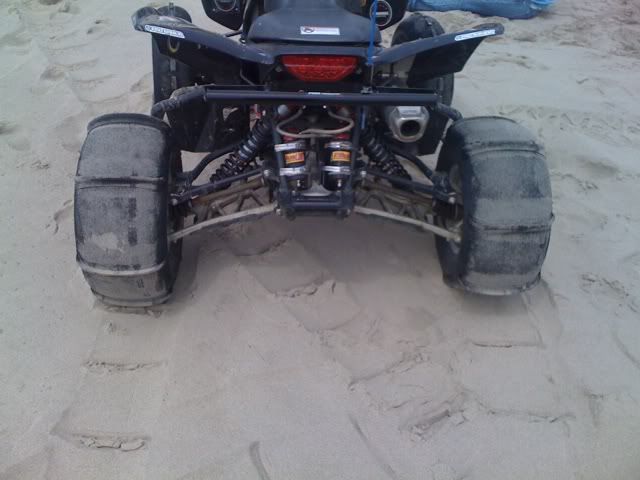 the prm desert grab bar bolted up perfectly like prm products do. it made it so much easier to lift when it got burried in the sand and was much better because you can get two people on it if lifting in a truck with out ramps. now with my aftermarkent dmc exhaust i have about 1/2in clearence from bar and pipe other have had to grind to work with there aftermarket exhaust. and i cant use the farthest grab hole after the bike has been running because i will get burned. also the bar does greatly improve the protection of exhaust and fenders.
skat track tires: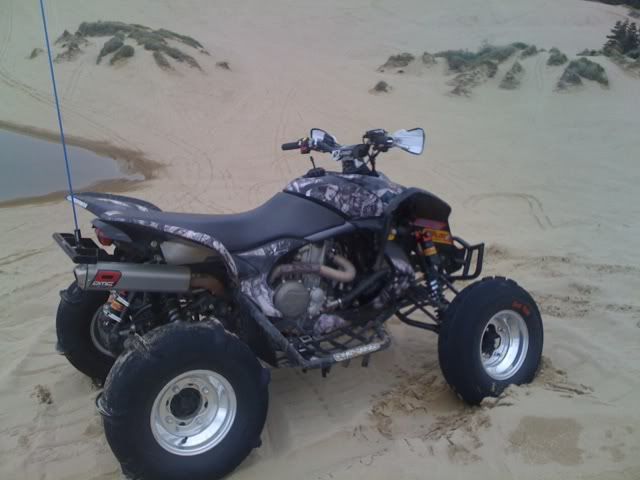 these are the best sand tires! (for the rear) they hook up great and will climb anything. not as much sold on the fronts i wish they would come in a 23in the was a lot of push with these tires and the quad didnt want to turn very sharp. my old sand star fronts handled much better. but they do look good. the rims can take a beating just rember to tighten your nuts.
smoked lens cover/pro armor hand guards: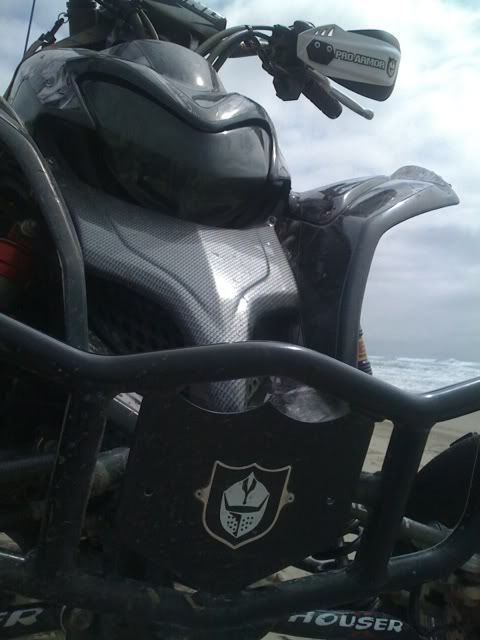 lets just say the ladies love it. and the guys were jealous. this lens really set off the xx in its (all BLACK!) look.lol sry red guys. it goes on and off easialy with velcrow and does not rattle. now you will have to trip the bottom of it if you have the maier front scoop because as we know mods DO NOT like to function with other mods because the were fitted for a stock bike but its a quick and easy fix.
the hand guards are nice i can not get them to line up prooperly to where leavers and swithch all go where they need to be. geting new leavers will fix this but there is just not enough room on my evo bars with the odi grips and all the parking break junk for them to go where the need to be.
hope this helps and if you have anymore questions feel fee to ask.
---
ENGINE:(57.87HP-LTP DYNO)12:1CP,STAGE 3 HOT CAM, PORT/POLISHED HEAD,HDD +3 TB, DMC AFTERBURNER FULL EXHAUST,PCV,MODQUAD K&N FILTER/MODIFIED AIR BOX,13T
SUSPENSION:ELKA STAGE 3 REAR STAGE 3 FRONT/HOUSER ARMS,L8TON SWAY BAR
ITP T-9 PROSERIES SKAT~TRACK EXTREAM HAULERS/MOHAWKS,RAZR/RAZR 2
ARMOR:PRO ARMOR FAT PEG NERF BARS
PRO ARMOR DOMINATOR FRONT BUMPER,PRM DESERT GRAB BAR,PRM FULL UNDER SKIDS,X-POSED SHOCK COVERS
CONTROL:PROTAPER EVO BARS,ODI GRIPS,TRAIL TECH HI-RISE BAR CLAMP,ALBA STEERING STABILIZER
LIGHTING:HID CONVERSION/LED ACCENT LIGHTS
LOOKS: AMR GRAPGICS/MAIER PLASTICS
---
Last edited by RemingtonSteel; 06-08-2010 at

12:52 PM

.
Join Date: May 2009
Location: NOR-CAL BABY!
Posts: 1,790
Mentioned: 0 Post(s)
Tagged: 0 Thread(s)
Quoted: 0 Post(s)
Wiigstyle
---
now for Wiigstyle.
josh is a very friendly person and has good knowledge about suspension. he can be hard to get a hold of because he has another job but will return your calls. we had a few learning problems dealing with the xx because as everyone knows the xx is so different from other quads. i had ordered stage 2 rears for it which do not exist and recieved stage 1 elkas. we worked together and i sent those back and took care of the difference and upgraded to the stage 3 shocks. it was a little slow it took a month to get the rears and a month to get the fronts and arms however i dont belive this was josh's fault the large manufactures just take their sweet time. when my rear shocks got retured to him after he sent them to me the second time back for some reason. josh with out any expence to me shipped them out next day air so that i would have them for my trip to the dunes. which was much appriciated. Wiigstyle is still a young company and josh is doing a good job makeing his dream job come true. and i believe it will only get better in time.
---
ENGINE:(57.87HP-LTP DYNO)12:1CP,STAGE 3 HOT CAM, PORT/POLISHED HEAD,HDD +3 TB, DMC AFTERBURNER FULL EXHAUST,PCV,MODQUAD K&N FILTER/MODIFIED AIR BOX,13T
SUSPENSION:ELKA STAGE 3 REAR STAGE 3 FRONT/HOUSER ARMS,L8TON SWAY BAR
ITP T-9 PROSERIES SKAT~TRACK EXTREAM HAULERS/MOHAWKS,RAZR/RAZR 2
ARMOR:PRO ARMOR FAT PEG NERF BARS
PRO ARMOR DOMINATOR FRONT BUMPER,PRM DESERT GRAB BAR,PRM FULL UNDER SKIDS,X-POSED SHOCK COVERS
CONTROL:PROTAPER EVO BARS,ODI GRIPS,TRAIL TECH HI-RISE BAR CLAMP,ALBA STEERING STABILIZER
LIGHTING:HID CONVERSION/LED ACCENT LIGHTS
LOOKS: AMR GRAPGICS/MAIER PLASTICS