Review of Power Form Pro throttle covers
---
Heres a new product in the making. These ultra trick and strong. They come in 1/4 inch or 3/8 thick and in clear or smoke. I love them!! Price is no more then the typical throttle covers offered today.
http://www.powerformpro.com/custom-h...ht-covers.html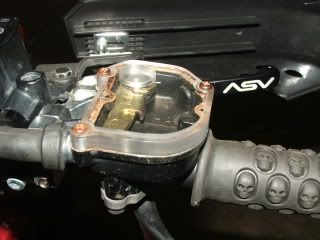 Senior Member
Join Date: Dec 2009
Location: kannapolis, nc
Posts: 538
Mentioned: 0 Post(s)
Tagged: 0 Thread(s)
Quoted: 0 Post(s)
im confused, whats the advantage here? Im assuming to see the linkage move (which is pretty cool)
---
Reply from 192.168.13.100: bytes=32 time=16275001ms TTL=128
90% cosmetic, Just like the blingy ones you buy. They can be lighter,and you can inspect your linkage/cable easier. They are also stronger then the stock ones. Like I said 90% cosmetic.
It looks like it is all cosmetic. Redrider, this is just bling, that is all. Sure they may be stronger, but I have never seen a cover break before (from normal riding, but def saw one when someone was playing baseball w/ an old set of handlebars that still had the upper throttle assembly attached LOL).

Willrideanything, how do you like those grips? I got the same ones on the XX, and find them quite soft and comfy.
---
2008 700xx; Power Bomb header with power core 4 exhaust, Power Programmer III, pro armor nerfs, prm products control front and rear bumpers and full skid, 10" ITP rears, ITP Baja's fronts, RZR 2's all the way around, Uni filter, 13t sprocket, CCP steering Damper, DS450 shock swap, Dual Gasser Throttle, bar risers and Moose barkBusters. 730XX kit plus other engine mods!