Junior Member
Join Date: Jan 2015
Posts: 16
Mentioned: 0 Post(s)
Tagged: 0 Thread(s)
Quoted: 0 Post(s)
The nicest XX
---
Hey guys, I'm new here and am looking for some ideas for my build. I have a red 700xx that I plan on dropping some money into. I plan to do just about everything I can suspension wise but don't plan on going past the big3 performance wise. Another thing I plan on doing is making it as trick as possible.

So I was wondering, who has the nicest xx? Id like to see some examples before I go spending a ton of money. I'd appreciate if everyone could post some pictures of their atv so I can get a sense of what I want. I'm kind of an XX newbie and have no idea what's out there for this machine. Black or grey XX photos are obviously welcomed as well.

Thanks a lot

Rob
Senior Member
Join Date: Mar 2012
Location: E.Kentucky
Posts: 407
Mentioned: 0 Post(s)
Tagged: 1 Thread(s)
Quoted: 0 Post(s)
I say make it your own do what you like the best that way you don't take some wrong advise and end up with a part you don't care for or wish you wouldn't of got my word of advise is stay away from proarmor bumpers the welds willbreak with all the frame flex of the xx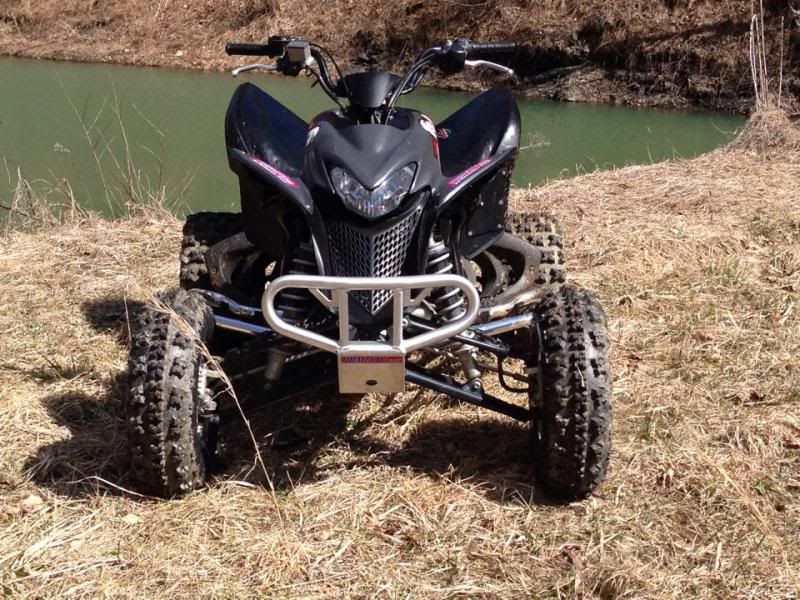 ---
Prm Desert II bumper
Alba Pro Elite Nerfbars Silver/Black
Alba Gas Cap Red
DWT .190 with GBC XC-Master 22x7 Front
DWT .190 with GBC X-REX 20X11-10 Rear
EHS Air Lid
EHS Controller
BigGun EVO-R Full Exhaust
UNI Filter
Tusk 30mm Riser Extenders
Join Date: Jan 2011
Location: Columbus, Oh
Posts: 5,744
Mentioned: 1 Post(s)
Tagged: 0 Thread(s)
Quoted: 255 Post(s)
Welcome to the club Rob!
---
There are a lot of nice quads on this site. The nicest one I've seen in awhile was the one DTM purchased from Shovelhead. Not that it had the nicest add on's, which it had plenty. But that it was practically a new machine at 6 yrs old. Here's a link to a thread.
www.club700xx.com/vb/showthread.php?t=16498
As far as my favorite members quad, I think Doug Bergstrom is sweet! Anyways here's a picture of my 700xx. What ever you plan on adding, post up and for sure get opinions and price links from others.
---
#1 2008 Honda Trx700xx HMF Performance Exhaust, PCV, Stroked 710cc, 10.5:1 Wiseco Piston, Frt Elka Stage 4's, Fox Podium X rear's, EHS Lid, L8ton 11/16" sway bar, DG 6 Pack Rack, PRM Desert II Bumper & Front Skids.
#2 2008 Trx700xx AMR Reaper, Ehs Big 3, P/P head, Xcalibur Cam, Hard Welded Rockers, +1 In/Ex Valves, +3 Throttle body, 11:1 CP Piston, Elka Stage 3 Legacy Shocks, L8ton 11/16th Sway Bar, PRM Front Skids, Desert II Bumper & Rear Utility Rack.

To view links or images in signatures your post count must be 10 or greater. You currently have 0 posts.

Junior Member
Join Date: Jan 2015
Posts: 16
Mentioned: 0 Post(s)
Tagged: 0 Thread(s)
Quoted: 0 Post(s)
Does anyone have a race ready type setup? id like to see what it looks like with full suspension/front arms, maybe cut fenders, graphics kits and other add ons. I'm sure guys on here have went all out. I have no problem dumping a few thousand into it if need be but I'd like it to look as good as it runs once it's done.

Do any of the higher end race companies make aftermarket pipes for this thing? I'm talking brands like Dasa, yoshimura, sparks, Duncan ect or are we stuck with the generic pipes?

Also, what length arms would you guys recommend for the front end? I ride trails that average 50-55 inch wide and plan on entering a few amateur XC races
---
Last edited by RobRedXx; 01-03-2015 at

01:46 PM

.
Senior Member
Join Date: Jun 2009
Location: N. Las Vegas, NV
Posts: 671
Mentioned: 0 Post(s)
Tagged: 0 Thread(s)
Quoted: 3 Post(s)
Do a search for my user name, I have posted a few photos of my 700XX set up for desert racing. Any questions, let me know!

Doug
---
2004 TRX450R, 2008 TRX700XX
(BITD #639 Quad Ironman Expert)

2015 sponsors: Teixeiratech.com, Motowoz.com, Snailmotorsports.com, My bank account.

2008 TRX700XX
2005 TRX450R
1986 TRX250R
Senior Member
Join Date: Mar 2012
Location: E.Kentucky
Posts: 407
Mentioned: 0 Post(s)
Tagged: 1 Thread(s)
Quoted: 0 Post(s)
Look up matlock racing 700xx
---
Prm Desert II bumper
Alba Pro Elite Nerfbars Silver/Black
Alba Gas Cap Red
DWT .190 with GBC XC-Master 22x7 Front
DWT .190 with GBC X-REX 20X11-10 Rear
EHS Air Lid
EHS Controller
BigGun EVO-R Full Exhaust
UNI Filter
Tusk 30mm Riser Extenders
Junior Member
Join Date: Jan 2015
Posts: 16
Mentioned: 0 Post(s)
Tagged: 0 Thread(s)
Quoted: 0 Post(s)
Looked up some of your pictures Doug, great bikes. I think I saw that you have 2 of them and both look great. I love the cut fenders so I may be going that route. Love the Houser nerfs too.

What exhaust would you guys recommend? I see a lot of guys go with a barkers but I've seen a few posts where the flaws of the barker pipe had been discussed. I never ran one inthe past, usually just stuck with Duncan, sparks and yoshi. What are some of the higher end brands for this bike?
Junior Member
Join Date: Jan 2015
Posts: 16
Mentioned: 0 Post(s)
Tagged: 0 Thread(s)
Quoted: 0 Post(s)
Senior Member
Join Date: Mar 2012
Location: E.Kentucky
Posts: 407
Mentioned: 0 Post(s)
Tagged: 1 Thread(s)
Quoted: 0 Post(s)
You can still buy the graphics from him just look him up on facebook send him a message
---
Prm Desert II bumper
Alba Pro Elite Nerfbars Silver/Black
Alba Gas Cap Red
DWT .190 with GBC XC-Master 22x7 Front
DWT .190 with GBC X-REX 20X11-10 Rear
EHS Air Lid
EHS Controller
BigGun EVO-R Full Exhaust
UNI Filter
Tusk 30mm Riser Extenders
Junior Member
Join Date: Jan 2015
Posts: 16
Mentioned: 0 Post(s)
Tagged: 0 Thread(s)
Quoted: 0 Post(s)
I'll probably just get my own graphics kit. His design is cool but I'd like my own sponsors and aftermarket companies. I'm not trying to directly imitate anyone's build, just looking for some ideas to incorporate into my bike