Junior Member
Join Date: Oct 2015
Posts: 11
Mentioned: 0 Post(s)
Tagged: 0 Thread(s)
Quoted: 0 Post(s)
VAPOR Trailtech Tachometer Sensor Installation for 700TRX
---
I bought a Vapor Trailtech Tachometer and I had some RPM variations during acceleration and RPM max indicates 12430RPM, we know it is not possible for 700 TRX....
So I asked to Trailtech Technical After sale directly who answered me this :
"I checked our records to see how we installed the tach sensor for that quad. It looks like we found the best results by connecting the sensor directly to the coil. Attached is a photo showing how we connected the tach sensor. I suggest you try the same thing and that should solve the issue. Let me know if not. "
See picture how to connect the wire...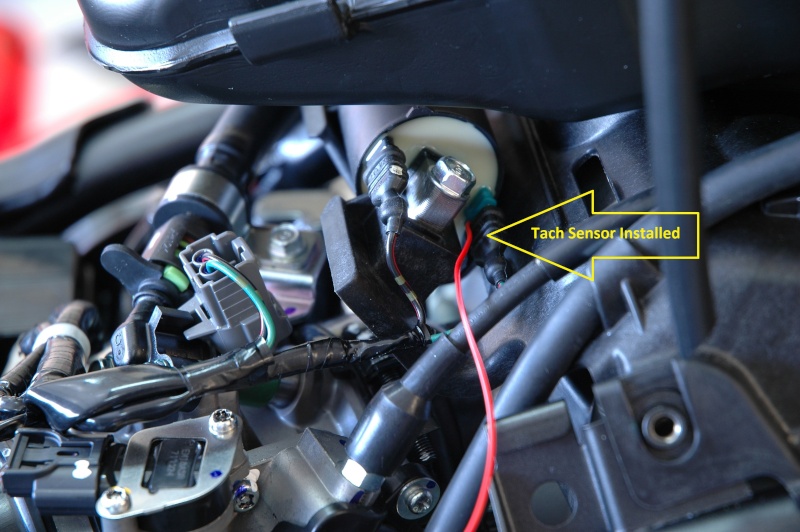 Hope this helps !!!!
Azebest
---
French ATV Rider... "Power is nothing without mastery"
Junior Member
Join Date: Oct 2015
Posts: 11
Mentioned: 0 Post(s)
Tagged: 0 Thread(s)
Quoted: 0 Post(s)
Just for your information below are my configuration in the Vapor parameters
Wheel size : 1560 (20 inches) rear wheels
PPR 0.5 (4 strokes : becareful there is a mistake in the user's manual)
High Temp warning : 103°C (or 217F)
Over Temp warning : 110°C (or 230°C)
RPM Shift 8000
RPM Over shift 9500

Idle speed measured 1500RPM : correct

Please let me know your parameters for those who have a Vapor Trailtech....
Thanks
---
French ATV Rider... "Power is nothing without mastery"