Junior Member
Join Date: Apr 2010
Posts: 27
Mentioned: 0 Post(s)
Tagged: 0 Thread(s)
Quoted: 0 Post(s)
warning stay away from preferred power sports of syracuse
---
i know this isn't a tech post but i just wanted to warn people about these folks
as i was reading about what exhaust system to use for the 700, i noticed a lot of you have the fmf 4.1, anyway, i typed it in google and came up these guys, they had the best price. so my son ordered it, and as with any online order we figured a week or so for delivery, now the drama unfolds, they say it's on back order(which is true i checked many other sites, and fmf always puts you on hold) so then we get another email saying they can't abide by their price! (bait and switch) anyway, don't waste your time with these people! see photos below! just a warning!!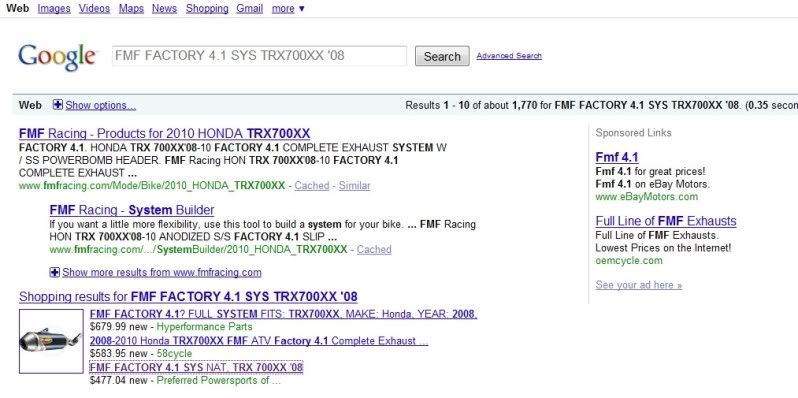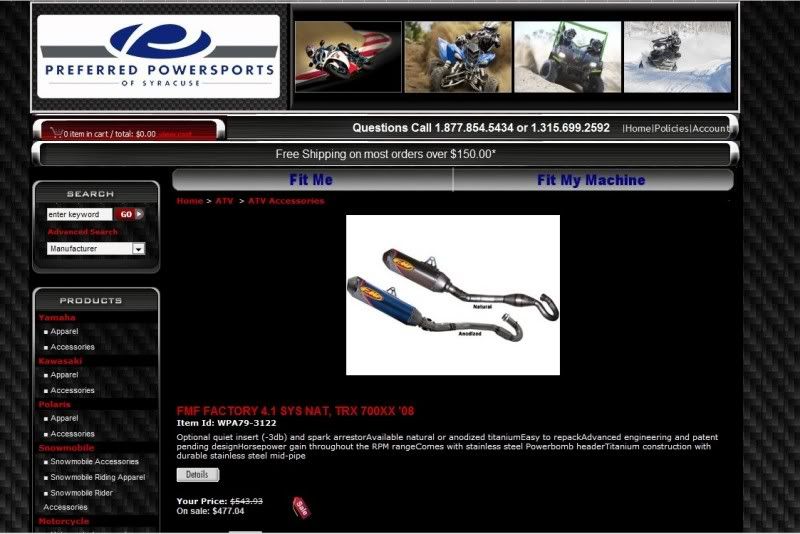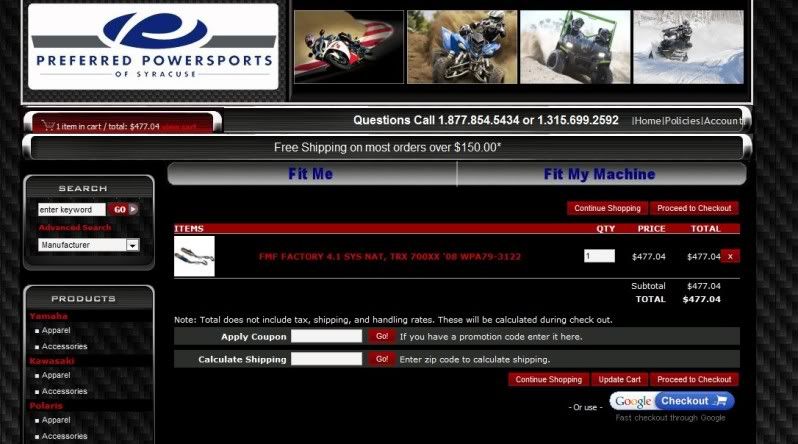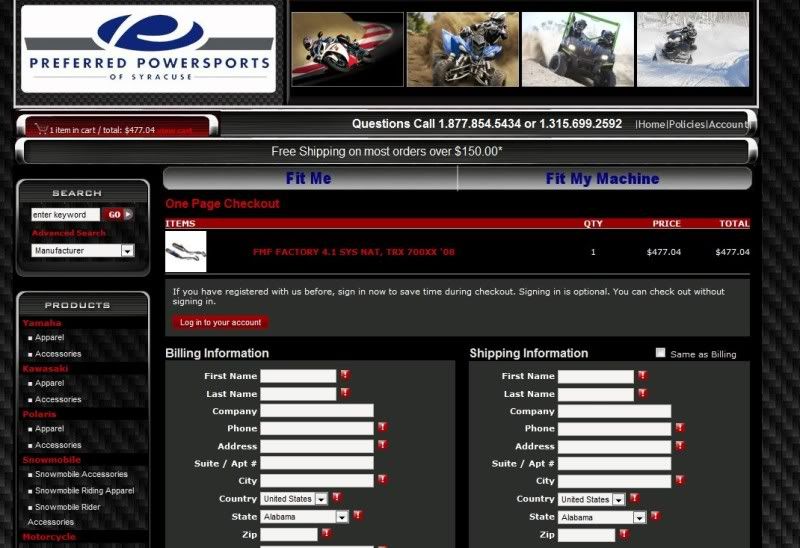 now the emails

Senior Member
Join Date: Mar 2010
Location: SouthWest Washington State
Posts: 179
Mentioned: 0 Post(s)
Tagged: 0 Thread(s)
Quoted: 0 Post(s)
Sounds like they made an honest mistake on the price. That price would be a steal for the full fmf 4.1 system. I bought just the slip-on through a seller on ebay for $324 and before that the cheapest price I found for the slip-on was $295 but I missed out by a few days.

The full system is easily another $240 from the slip-on price.

I can understand why you would be upset with them but clearly that was an incorrect price to begin with.
---
2008 TRX 700XX
FMF 4.1 Factory Full System
UNI Air Filter
Renthal 13T Front Sprocket
Pro-Armor Dominator Black Front Bumper
Maxxis RAZR2 23x7x10 Front Tires
To view links or images in signatures your post count must be 10 or greater. You currently have 0 posts.
Join Date: Apr 2009
Location: Morrisville, NC
Posts: 2,728
Mentioned: 0 Post(s)
Tagged: 0 Thread(s)
Quoted: 1 Post(s)
Funny thing is that they are still showing that price!!!
---
Supertrapp SL, Pro Design Filter, PCIII, PRM Baja Front Bumper, PRM 6 Pack Grab Bar, Ricochet A-Arm guards, 23" Front ITP Pro Series, Kenda Kutters XC on DWT Red Labels, Motion Pro Twist Throttle,Maier Plastics, Elkas Front Shocks (Preload)
Get it on eBay
---
I like your Christ. I do not like your Christians. Your Christians are so unlike your Christ.
Join Date: Apr 2009
Location: Morrisville, NC
Posts: 2,728
Mentioned: 0 Post(s)
Tagged: 0 Thread(s)
Quoted: 1 Post(s)
What about this system on their site; 1831-0436 FITS: TRX700XX YEAR: 08 MAKE: Honda TYPE: Natural titanium slip-on - Mufflers $399.95
1831-0436
Supposedly this is a whole system but the way it's written, seems like a catch 22
---
Supertrapp SL, Pro Design Filter, PCIII, PRM Baja Front Bumper, PRM 6 Pack Grab Bar, Ricochet A-Arm guards, 23" Front ITP Pro Series, Kenda Kutters XC on DWT Red Labels, Motion Pro Twist Throttle,Maier Plastics, Elkas Front Shocks (Preload)
Join Date: Apr 2009
Location: Morrisville, NC
Posts: 2,728
Mentioned: 0 Post(s)
Tagged: 0 Thread(s)
Quoted: 1 Post(s)
This is their description;
Complete systems and slip-on mufflers
Systems feature titanium PowerBomb header and midpipe, except where noted
Slip-on muffler available in natural titanium, blue anodized titanium or carbon fiber with titanium end caps
Titanium slip-on mufflers include a stainless steel midpipe; carbon fiber slip-on mufflers include a titanium midpipe
The lightest mufflers and full systems available
Superior power and performance – horsepower improved throughout the rpm range
Features exclusive proprietary Chamber Core and PowerBomb technology
Factory forward engineering centralizes mass, improves handling
Made from premium quality American materials
Customize with performance tuning inserts and spark arrestor modul
---
Supertrapp SL, Pro Design Filter, PCIII, PRM Baja Front Bumper, PRM 6 Pack Grab Bar, Ricochet A-Arm guards, 23" Front ITP Pro Series, Kenda Kutters XC on DWT Red Labels, Motion Pro Twist Throttle,Maier Plastics, Elkas Front Shocks (Preload)
Senior Member
Join Date: Apr 2009
Location: San Diego, CA
Posts: 1,400
Mentioned: 0 Post(s)
Tagged: 0 Thread(s)
Quoted: 0 Post(s)
Quote:
Originally Posted by
Nash04
This is their description;
Complete systems and slip-on mufflers
Systems feature titanium PowerBomb header and midpipe, except where noted
Slip-on muffler available in natural titanium, blue anodized titanium or carbon fiber with titanium end caps
Titanium slip-on mufflers include a stainless steel midpipe; carbon fiber slip-on mufflers include a titanium midpipe
The lightest mufflers and full systems available
Superior power and performance – horsepower improved throughout the rpm range
Features exclusive proprietary Chamber Core and PowerBomb technology
Factory forward engineering centralizes mass, improves handling
Made from premium quality American materials
Customize with performance tuning inserts and spark arrestor modul
Sounds like a general description of what they sell... full or slip-on... It doesn't say ''This is a full system''
Join Date: Apr 2009
Location: Morrisville, NC
Posts: 2,728
Mentioned: 0 Post(s)
Tagged: 0 Thread(s)
Quoted: 1 Post(s)
This is all part of the description of the system that I selected and it does say:
Complete systems and slip-on mufflers
Systems feature titanium PowerBomb header and midpipe, except where noted

So which part am I reading wrong even though I could careless since I'm not planning on buying
---
Supertrapp SL, Pro Design Filter, PCIII, PRM Baja Front Bumper, PRM 6 Pack Grab Bar, Ricochet A-Arm guards, 23" Front ITP Pro Series, Kenda Kutters XC on DWT Red Labels, Motion Pro Twist Throttle,Maier Plastics, Elkas Front Shocks (Preload)
Junior Member
Join Date: Apr 2010
Posts: 27
Mentioned: 0 Post(s)
Tagged: 0 Thread(s)
Quoted: 0 Post(s)
Join Date: Apr 2009
Location: Morrisville, NC
Posts: 2,728
Mentioned: 0 Post(s)
Tagged: 0 Thread(s)
Quoted: 1 Post(s)
---
Supertrapp SL, Pro Design Filter, PCIII, PRM Baja Front Bumper, PRM 6 Pack Grab Bar, Ricochet A-Arm guards, 23" Front ITP Pro Series, Kenda Kutters XC on DWT Red Labels, Motion Pro Twist Throttle,Maier Plastics, Elkas Front Shocks (Preload)