Senior Member
Join Date: Dec 2008
Location: North Texas
Posts: 2,171
Mentioned: 0 Post(s)
Tagged: 0 Thread(s)
Quoted: 0 Post(s)
Decompressioner - spring?
---
I swore the decompressioner had a spring on it, but when I took it off the stock cam to put on the Hot Cam, there wasn't a spring. We put it on anyway and I haven't noticed anything wrong with it or any weird noises either. I'm sure if a spring is supposed to be there it makes it work correctly. What's the worst that can happen without a spring? Would it just not work? I saw this picture on ebay and it made me wonder about it though.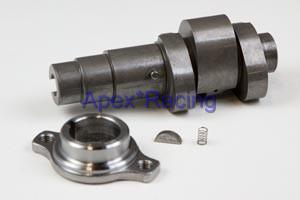 ---

To view links or images in signatures your post count must be 10 or greater. You currently have 0 posts.

2008 Honda TRX700XX | 13t Sprocket | HID Headlights | Steering Dampner | ITP Baja Fronts / ITP Pro's Rear | Maxxis RAZR2's all the way around!
Join Date: Dec 2009
Location: Eugene, Oregon
Posts: 723
Mentioned: 0 Post(s)
Tagged: 0 Thread(s)
Quoted: 0 Post(s)
yes there is a spring, and it tends to go flying when u pop the decomp off. took me 10 min to find mine the first time i did it. im sure its there for a reason, so i wouldnt run without it. dont you have 2 stock cams? get the spring off the other one, or go buy a comparable spring.
---
08 Honda 700xx
Installed
11.0:1 CP Piston || +3 Throttle Body by Cuervo Racing || Web 290 Cam
HD Web Valve Springs || Hard Rockers || NGK BKR6EKPB-11 Laser Platinum spark plug
Modquad Air Flow System with K&N Filter || custom mounted trail tech vapor || Modified air box lid
DMC Afterburner full exhaust || EBC Dirt Racer Clutch Kit w/Cuervo Racing springs || PC3
Rear 22" Kenda Kutter XC tires || Rear 22" ITP Sand Star tires
Dyno Tuned by Cuervo Racing @ 53.82rwhp & 44tq